On 4 September, Lawyers Weekly published our op ed, "Pro bono target should be mandatory for LSMUL winners".
By way of reminder, LSMUL is shorthand for the Australian government's legal services panel. Following a competitive tender, 62 law firms were appointed to the Commonwealth's five-year, "billion-dollar" panel.
Based on figures published by the Attorney-General, 46 (75 per cent) of the Australian government's new panel law firms failed to achieve the pro bono Aspirational Target in 2017-2018. The list of 'failing' firms includes HWL Ebsworth which has been appointed to every one of the government's 27 areas of law.
It's 2019. We should not still be arguing the case for good corporate citizenship. For law firms, pro bono work is a central pillar of any corporate responsibility program.
The Aspirational Target is not a recent invention. The target of 35 hours (pro bono per lawyer per year) should have ceased being an aspiration long ago.
For the Australian Government's panel law firms, achievement of the Target should be non-negotiable.
It is unreasonable to judge a firm's pro bono commitment based on what it has done in a single year. I've therefore analysed the pro bono hours reported by the LSMUL 'big winners' (firms that were appointed to five or more areas of law) for the past five years.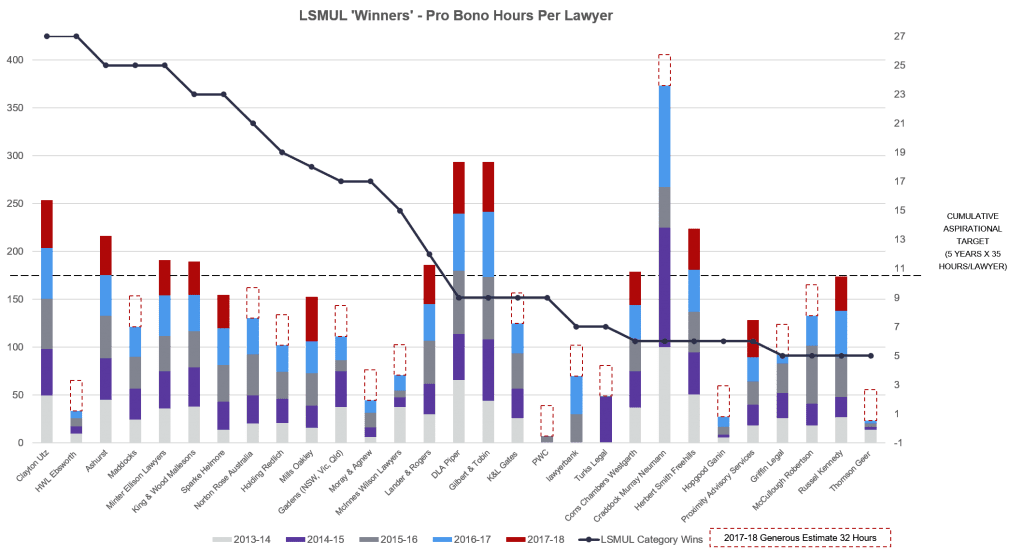 Here's what the data tells us. CONTINUE READING