*We love a word pun. The won is the official currency of North Korea.
Last week, a professional services client engaged, then quickly disengaged, us to assist with a government tender.

On the one hand, we were pleased because it signaled our client was taking the go-no go process seriously. There's nothing wrong with making an informed decision not to bid.

However, our client's rationale left us questioning its key account program:

"He [the ultimate approver] does not see a lot of return from government panels."

When you win a big tender, it's natural to get caught up in the euphoria. It's exciting! But the sobering reality is it's unlikely yours was the only firm appointed. So what's your plan to convert your 'win' into revenue? Don't have a plan? You wouldn't be alone.
How to convert wins to revenue is the greater challenge
It's a business truth that all clients are not equal. Some are transactional; others relationship-based. Some are contracted; others are not. Some are price sensitive; others value-driven.

Tendering is high stakes, potentially high reward.

When you win a tender, you overcome the first hurdle. At the very least, you know the client is contracted. You have a three or five or whatever-year window.

However, being appointed to a panel is only the first step. Once appointed, your challenge is to convert the 'win' into a profitable and ongoing stream of revenue. Some firms do this exceptionally well. Others squander the opportunity by making fundamental, yet critical, key account management mistakes.

Mistakes such as these.
1. They do nothing
It's not uncommon for firms to go to great lengths to win a tender, including by enlisting the assistance of businesses like ours. Together, we work hard to develop a winning strategy and produce a compelling submission. And it works – they win… and then they rest on their laurels.

It's as though firms fall into the trap of thinking the work will magically appear. It rarely does.

In B2B marketing, relationship managers are commonly appointed to caretake a firm's most, or potentially most, valuable relationships.

The whole point of nominating a relationship manager, and supporting that person with a client team, is to protect and grow an account.
First and foremost, that means understanding the rules of the appointment.
How will the work be allocated (for example, will it be on a cab rank basis, by performance, or at the discretion of certain individuals)?
Who does the firm know? Who does it need to know?
And so on.

If the nominated relationship manager doesn't perform, or loses interest, provide support or make a switch.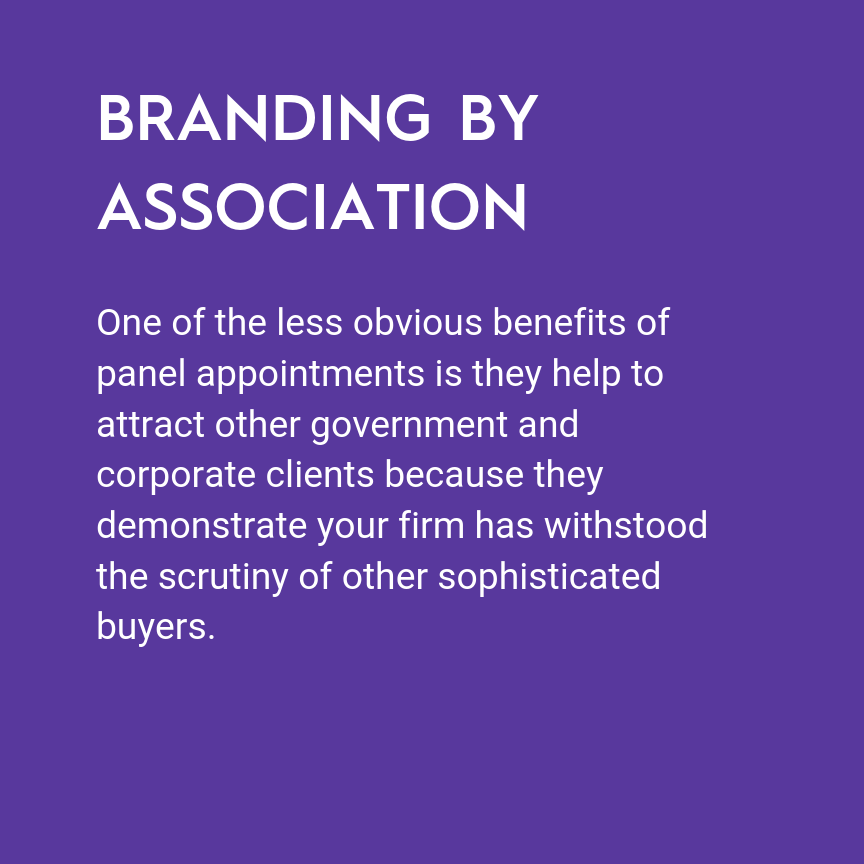 2. They ignore the client's processes and procedures
Government and corporate clients are large and complex organisations. Yet, they'll often show a preference for a simple account management structure involving a relationship manager perhaps supported by business line or geographic leads.

The firms that succeed in growing these panel relationships are those that respect the client's preferences.
These firms will have internally promoted the identity of their client relationship manager and account team.
They'll have created and widely shared the position descriptions for key roles so that all staff understand lines of authority, communication protocols, and account management processes.
Staff will respect those roles and conform with the key account framework.
Driven by a common goal, the relationship manager and account team will work effectively together as one.
The firms that fail to leverage their successes will have largely ignored a client's preferences. Their lack of discipline, and disregard for the principles of key account management, will obstruct their progress and slowly render their firm's inclusion on a panel redundant.
3. They're not data-obsessed
Government and corporate clients generally dictate the frequency, format and structure of reports. All panel firms will comply with those obligations.

Leading firms will recognise that the goal is to increase account revenue and profitability; to subtly increase the perceived switching cost, and to build barriers to entry that cannot be readily penetrated by their competitors. To that end, they will also capture and obsessively analyse other data to gain insight into the client, the health of their relationship with the client, and any trends or opportunities.

They'll mandate transparency through the adoption and disciplined use of their firm's CRM system and adjacent marketing technologies.
4. They don't add value to their client
Commonly, when tendering, firms will go to great lengths to articulate how they will add value to a prospective government or corporate client. They'll propose routine things. Exceptional things. Operational ideas. Innovative ideas.

The firms that succeed in growing these accounts will have put their words into action – and more. What's more, their value adds will have utility – they'll actually add value.

Those firms that struggle to monetise their win will make excuses as to why they don't add value. To them, it will always be somebody else's fault.